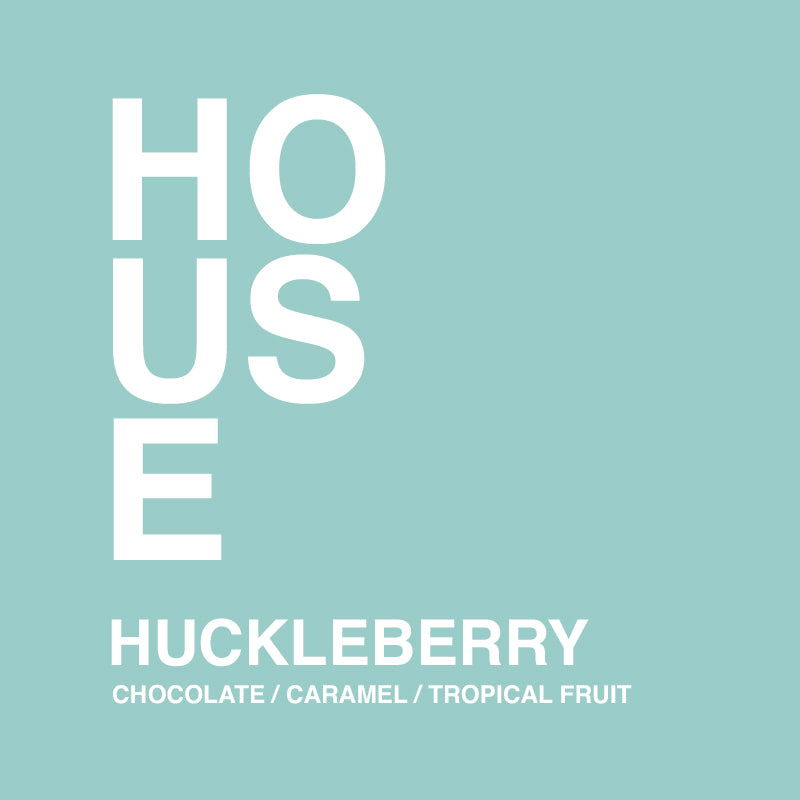 Huckleberry: House Blend (1kg)
---
Chocolate, Caramel & Tropical Fruit.
Our signature house blends - suited for those who enjoy a darker roast. Created with a 50/50 blend:
Popayan Reserve: Colombia
Country: Colombia
Region: Popayán, Cauca
Varieties: Variedad Colombia, Castillo, Caturra, Catimor, Typica
Process: Washed
Altitude: 1,500-2,070m above sea level
Producers: Various Smallholders
More Information:
Found in a plateau in the Colombian Massif, Popayan sits at a staggering altitude in picturesque surroundings. These surrounds are full of beautiful undulating slopes, where coffee is cultivated.
This lot from Popayan contains rich and complex caramel and chocolate notes and the subtle fruitiness of stone fruit. A classic favour profile, and an essential addition to a blend that is intended to be enjoyed with milk.
Pocos De Caldas: Brazil 
Country: Brazil
Region: Cerrado de Minas, Minas Gerais
Varieties: Yellow Bourbon, Catuaí & Catucaí
Process: Natural
Altitude: 1,000-1,300m above sea level
Producers: Various Smallholders
More Information:
Laying on the outer rim of an extinct volcano, Pocos de Caldas is located in an excellent environment for producing high-quality coffee lots. Nutrient-rich volcanic soil, high altitudes and cool temperatures mean that coffee cherries thrive and develop slowly, allowing for a more complex final fruit.
This lot is an excellent option for a blended roast. The coffee's fruit-forward and nutty characteristics are complemented by decadent notes of milk chocolate and vanilla. Together, these create a creamy and viscous body, measured with a pleasant tart fruitiness – a fantastic option for providing body and depth of flavour to a blend.
You will receive:
1 x 1kg bag of Huckleberry.